SuperZoo is the largest pet industry trade show in North America and last week we got a first hand look at all the great products available to help keep our dogs happy and healthy! The show is always such an amazing experience. We meet lots of people, pets and awesome new pet entrepreneurs who are as passionate about furry best friends as we are. Coming home from all the excitement, we knew it would be hard to narrow down our top 10 favorites because we saw so many wonderful pet products.
In the end, it came down to these top 10 favorites that we hope you'll love as much as we do.
Under the Weather – Bland Diet
When dogs experience vomiting or diarrhea, veterinarians commonly recommend feeding a "bland diet" until healthy digestion is restored. Under the Weather freeze-dried bland diets offer a headache-free, just add boiling water solution. Products include a chicken and rice, chicken and rice with pumpkin, and bison and oatmeal.
Dog is Good – "Never Drink Alone"
Dog is Good is an award winning Dog Lifestyle brand that designs and sells gifts, apparel and home decor for dog lovers. Their latest addition to their popular Never Alone Collection is called "Never Drink Alone." It's the perfect way to show off your special bond with your dog this summer, and all year long.
Petmate – Calmz

The perfect solution for anxious dogs. The Calmz Anxiety Relief System for dogs is an adjustable vest that holds a device over specific acupressure points on your dog's spine. Upon activation, your dog receives a therapeutic blend of classical music, tones and vibrations. This technology called NeuroSync is clinically proven to soothe your dog in minutes.
K9 honey

An all-natural raw honey treat and food topper for your dog. K9 Honey is naturally filled with vitamins and minerals, and a blend of bee pollen from nine geographic regions. A great product to use as a stand-alone treat or as a delicious way to top food.
Cycledog – Fuzzies

A fun way to entertain your dog for hours, these toys are soft on a dog's teeth and gums, but tough enough for extended play sessions. If you need to keep your dog busy for a few hours while doing chores or running a couple errands, get him a Cycledog Fuzzie and watch the fun last.
Pawscout


A smart pet tag that works with the Pawscout app so you can always keep track of your dog. It acts as a location device in case your pet ever gets lost, and lets pet parents track walks, keep medical records, and stay in touch with an active community to safeguard your dog.
Healthy Hemp – CannaBalm


Most dogs maintain their energy levels long after their bodies are tired and sore. That's when pet parents see their dog limp or whimper in pain as it tries to keep up with the family. Healthy Hemp CannaBalm is a healthy, natural PCR (phytocannabinoid-rich) hemp oil salve made to ease your best furry friend's achy muscles and stiff joints. Customers have even reported that it's worked on horses and people to soothe occasional rashes and ease discomfort from overuse and aging.
PupJoy – Customized Box

If joy could come in a box for your pup, it would be in a PupJoy Customized Box. Pet parents can choose from ordering a single box, a gift box, or creating a customized plan with the options of treats, toys, and accessories, or any combination thereof. Buyers have a treat preference based on certain diet restrictions such as all natural, grain sensitive, protein sensitive, or organic. There's also a dog size, delivery frequency, quantity of boxes, and a toy preference to choose from, including egalitarian (mix), inquisitive (durable) or sensitive (plush). Whatever you choose, your pup is sure to love everything that comes in a PupJoy Customized Box.
Clawguard – Door Shield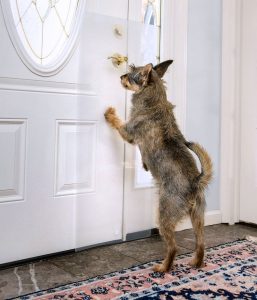 If your dog tends to scratch at the door, shredding it and the surrounding door frame, then the Clawguard Door Shield is the perfect way to save yourself the cost of a remodel. Installation is easy as it hangs from the door knob and is large enough to cover both the door and the door frame. Available in two sizes, the original Clawguard comes in the standard 18" by 43" size, and the heavy duty option measures 20" by 44" and covers more of the door area. If you need a custom fit door shield, The Clawguard can easily be trimmed with household scissors to fit the shape and size you need.
My Pooch Face – Custom Themed Portraits

As pet parents, we collect hundreds of photos of our best furry friends. Whether on our smartphones, hard drives, or in picture frames and albums, we are never short on pet pictures. But what if there was a way to really make your favorite photo of your pup stand out and look amazing? My Pooch Face creates custom pet portraits that are handmade from your photo. Take that cute pic you took of your dog and put it in front of a blazing sunset or in the middle of a blooming garden. Themed custom portraits offer over eighty stunning backgrounds to choose from and are shipped ready to hang.
Talk about some great pet ideas!
We know it's hard to pick just one, so go ahead and splurge a little. After all, it is for your bestest furry friend ever, and you know your dog will appreciate it. Pets are such a special part of our lives. They see us at our best, and stand beside us at our worst. So, go ahead and invest in that Pawscout tag to ensure your pet's health and safety. Yes, we know the PupJoy Box is the cutest and best surprise your dog will get in the mail. And don't even get us started on the beautiful My Pooch Face Custom Themed Portraits and really, all the other innovative and fun products mentioned on our list.
Oh, and of course, don't forget to treat yourself with the new Dog is Good "Never Drink Alone" design. You deserve it for being an awesome pet parent.
Cheers!